The means that Britons decide to have their bodies disposed of after death are changing rapidly. While green living might be one thing, green passing away is rather another - and not typically something that's at the center of an consumer's conscience.

New research reveals that almost 35 per cent of people plan on an eco-friendly burial, rather than typical coffin burials and cremation ceremonies.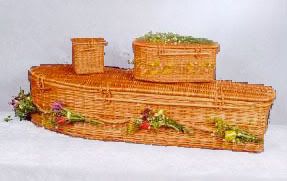 Less space in churchyards and the increasing expenses of funerals have all contributed. For the quarter of those contemplating death who like to be interred whole, new sorts of caskets and burial plots provide options to a traditional wooden coffin in a churchyard.

Natural burials are significantly increasing in remote woodlands, and some people are deciding to plant trees in place of headstone.

Ecologically friendly wicker and bamboo coffins, which decay quickly in the dirt, have been pushing on. Woollen and seagrass versions are additionally favorites, and cardboard coffins and shrouds are other choices.

Queen of Green Dame Anita Roddick's funeral was 100 per cent eco-friendly. The Body Shop creator was cremated in an 'eco-pod' casket made from eco-friendly hedges, while unique filters made to reduce mercury emissions were utilized during the cremation.

Alkaline hydrolysis, a process previously used to dispose of farm animals, liquefies body tissue with a carbon footprint 35 % smaller sized than cremation. The process is currently available in only three American states California, Florida and Minnesota, but the Co-op wants to introduce it in Britain. Various other choices, such as freezing a body with liquid nitrogen in "cryomation", are likewise mooted as options to cremation.