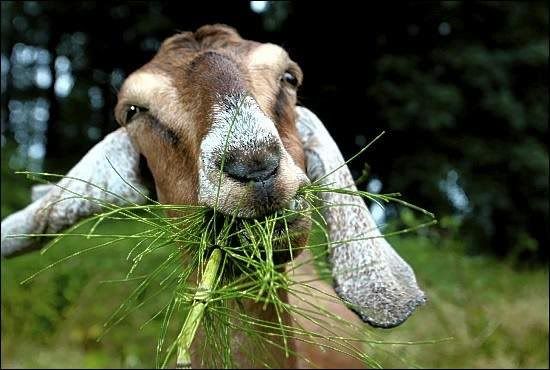 Goats to act as eco-lawnmowers
Belfast Telegraph reported

Would-be goatherds are being trained to tend to two nannies and a kid which have been out to pasture in Howth Head.

The three golden Guernsey goats were given a special blessing as they officially moved to their new picturesque home in north Dublin where they will be the new environmentally friendly lawn mowers.

About 60 members of the local community attended the quaint ceremony as Father Brian McKay of the Carmelite order read prayers.

Deborah Tiernan, biodiversity officer for Fingal County Council, said that volunteers will not need too much experience to know if the goat is settling in.

"If you can tell when a dog is happy, you will be able to tell when one of these goats is happy," she said.

The goats were based at Newbridge Demesne, Donabate and moved by the council in an attempt to preserve the native Irish heathland that covers the area. Their job is to graze the heather, gorse and small trees that dominate the area instead of traditional practices such as controlled burning and cutting.

The Hill of Howth is designated as a special area of conservation and is protected by European legislation.