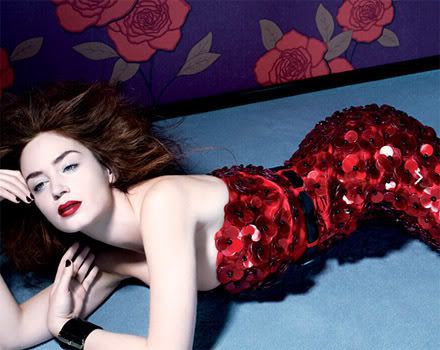 Eco chic: Emily Blunt does the unheard of - and wears recycled dress on green ...
Daily Mail reported

Most Hollywood stars would not be seen dead in the same dress twice never mind a recycled one.

But The Devil Wears Prada star Emily Blunt attended the premiere of her latest film Arthur Newman in a Tory Burch Ethel gown made of 100% reclaimed silk tulle and a recycled brass necklace.

The stunning actress, who was at the 2012 Toronto International Film Festival, finished her look with a pair of strappy grey sandals and hot pink lipstick.

Emily was participating in the Green Carpet Challenge conceived by her co-star Colin Firth's eco-fashionista wife, Livia.

'I am so happy to support Livia Firth and the Green Carpet Challenge by wearing a gorgeous eco-friendly gown,' Emily said.

'Livia's passion and dedication to this project are truly inspiring, and I am thrilled to be a part of it.'

Husband John Krasinskiwho escorted her to the premiere of her other project Looper in the Canadian city on Friday.