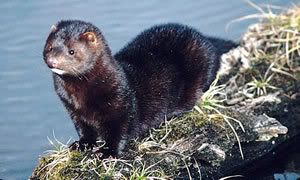 Eco-friendly fur ad banned
The Guardian reported
An ad campaign claiming that it is "eco-friendly to wear fur" has been banned, after the advertising watchdog dismissed assertions that choosing fur is good because it "lasts a lifetime" and "helps conservation".
The European Fur Breeders' Association ran a magazine campaign with the headline "Why it's eco-friendly to wear fur".
Its small print included claims including that fur is "naturally long-lasting", can be "recycled easily and biodegrades" and is "one of the most ecologically balanced systems in agriculture".
The Advertising Standards Authority received a complaint from Global Action in the Interest of Animals, which said the ad was misleading.
The EFBA and the International Fur Trade Federation defended the ad, saying that fur is "durable" and is a "sustainable product".
They argued that products such as mink coats can last 30 years or more, "longer than most of the textile materials", and that fur can be recycled into other items, such as bags and cushions, because it is a "natural and organic product which biodegrades".
Banning the ad, the ASA said the campaign, and supporting documents provided for the investigation, did not show that the fur trade would "cause no environmental damage".