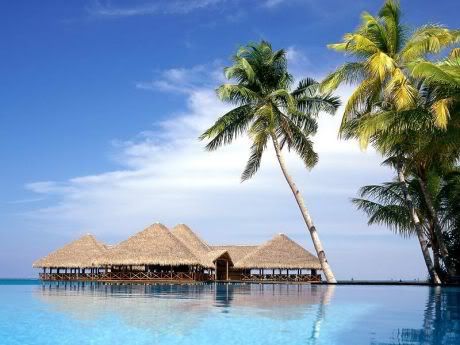 Trouble in Maldives as eco icon president is forced out
Scotsman reported
THE president of the Maldives resigned yesterday in what one aide described as a coup d'etat.
President Mohamed Nasheed has been credited with bringing democracy to the archipelago and raising awareness of the impact of global warming, at one point holding a cabinet meeting subsea, in scuba gear.
But he has faced weeks of opposition protests and this week a police mutiny.
Mr Nasheed, the Indian Ocean islands' first democratically elected president, handed power to vice-president Mohamed Waheed Hassan Manik, explaining that continuing in office would result in his having to use force against the people.
"I resign because I am not a person who wishes to rule with the use of power," he said in a televised address. "I believe that if the government were to remain in power it would require the use of force which would harm many citizens.
Mr Nasheed swept to victory in 2008, pledging to bring full democracy to the low-lying islands and speaking out passionately on the dangers of climate change and rising sea levels.
But he drew fire for his arrest of a judge he accused of being in the pocket of his predecessor, Maumoon Abdul Gayoom, who ruled for 30 years. Protests set off a constitutional crisis that had Mr Nasheed defending himself against accusations of acting like a dictator.
"It's a coup, I am afraid," an official at Mr Nasheed's office said, asking not to be identified. "The police and Mr Gayoom's people as well as some elements in the military have forced the president Nasheed to resign. According to my book it's a coup."
The new president said this was a "misrepresentation".
"The people have been out on the street demonstrating for weeks now and it came to a point where the crowds [were] too overwhelming and the president tried to negotiate, was too late and the people prevailed on him to resign."
Overnight, vandals attacked the lobby of the opposition-linked VTV TV station, witnesses said, while mutinying police attacked and burnt the main rallying point of Mr Nasheed's Maldives Democratic Party before taking over the state broadcaster MNBC and renaming it TV Maldives, as it was called under Mr Gayoom.