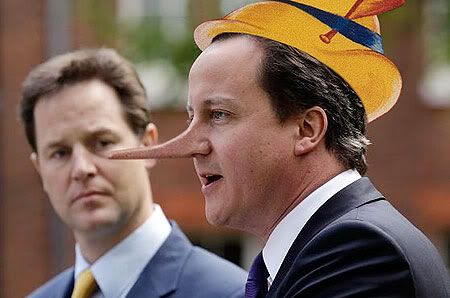 What happened to the Conservatives green agenda?
The Guardian reported
It was the week the husky died. Since David Cameron was pulled across the Arctic ice in 2006, the promise of environmental action had been at the heart of rebranding the Conservative party as modern and compassionate. "Vote blue, go green" was the slogan.
But at the Tory conference in Manchester this week, George Osborne for the first time publicly attacked green laws and regulation as "piling costs on to energy bills" and appeared to abandon earlier aspirations of leadership for the UK in the low-carbon economy.
Cameron, who has made no major speech on the environment since pledging in May 2010 to lead the "greenest government ever", made a single passing reference to "green technology" in his conference closing speech.
The comments stunned green Tories, with energy and climate change ministers shifting from talk of "world leadership" in the morning to "realism" in the afternoon, and party activists saying Osborne had dropped a clanger.
Political insiders talked of red meat being thrown to the right wing to bolster the chancellor's support, others that soaring home energy bills were reaching "poll tax levels" of concern for the PM.
Environmental campaigners were incensed, accusing Osborne of stealing a page from George Bush's playbook and ignoring the major role green industries could play in reviving economic growth.