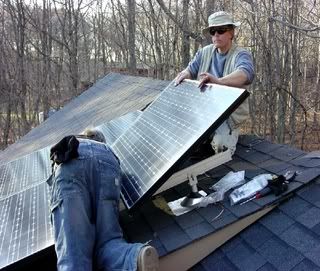 Osborne 'in denial over green energy': It's the third industrial revolution ...
Daily Mail reported
Chris Huhne will today attack George Osborne as a 'green economy denier' and a 'curmudgeon' for blocking the headlong rush towards green energy.
The Liberal Democrat Energy and Climate Change Secretary will say renewable energy can be the 'third industrial revolution' after the dawn of heavy industry and the hi-tech revolution.
His words are a calculated rebuke to the Chancellor, who told the Tory Party conference earlier this month that he would not let the UK rush ahead of the rest of the EU in cutting greenhouse gas emissions.
Mr Osborne warned that going more quickly than the rest of Europe would make British firms uncompetitive and damage the economy.
But Mr Huhne will turn on the Chancellor, saying: 'We are not going to save our economy by turning our back on renewable energy.'
In what will be seen as a provocative attack, the Energy Secretary will throw the Chancellor's claims – that the UK needs to move in concert with other countries because Britain alone produces just 2 per cent of the world's carbon emissions – back in his face.
'Yes, the UK is only 2 per cent of global carbon emissions. But if we grasp the opportunity now our businesses and economy can be much more than 2 per cent of the solution.'
The Energy Secretary will claim that £1.7billion in renewable energy investment this year will create 9,000 jobs.