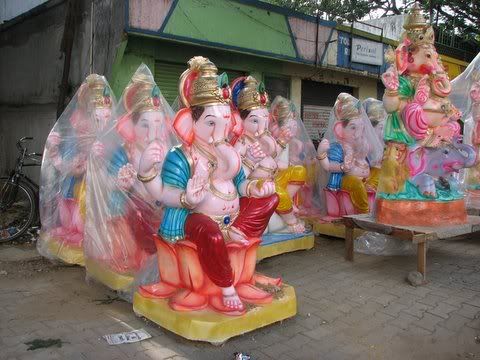 Get a Ganesha that not just blesses you but also one that doesn't pollute our lakes. Eco-Ganesha idols are in high demand across the city, with demand going up by 20-30% every year over the past three to four years.
Eco-Ganeshas, made of clay and painted with natural colours, dissolve as soon as they are immersed in water, instead of settling at the bottom of the water body and polluting it.
Artisans and dealers are seeing a good rise in demand, with households rather than businesses, opting for these clay models. H M Kari Basappa, who been in the business since 1989, has been specializing in eco-Ganeshas for nearly a decade. He's sold around 6,000 idols this year in the range of Rs 50 to Rs 500. These Ganeshas are partially hand-moulded and machines are used minimally.
Kalpa Seshadri, who was selling these clay idols for Rs 100, has run out of stock and is selling only flowers now. This year, the demand was very high and we've already sold 200 models in Basavanagudi.
Vijaylakshmi S, a Bharatanatyam dancer, has sold over 100 models. She has a group of people who mould these clay idols and paint them with natural colours. "The awareness is very high, especially among the middle class which is now opting only for the non-polluting variety. In fact, the demand is so high that the time has come when many artisans can get together and arrange for a fest of eco-idols." She sells her idols at a store in Chamarajpet and has outlets at KR Road and Chandra Layout.