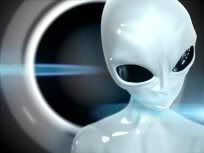 Aliens vs. humans: Eco-friendly extraterrestrials could wipe out planet Earth ...
Daily Mail reported
Anyone hoping that the first spaceman to land on Earth is as friendly as ET could be in for a shock.
In the latest bid to get us to cut greenhouse gases, scientists have decided that eco-conscious aliens disgusted by mankind's emissions could destroy our planet in disgust.
When observed from afar, the changes in Earth's atmosphere could label us as a civilization that has grown out of control.
Aliens reaching that conclusion may then launch a preemptive attack to protect this perceived threat to their own way of life.
But that is only one possibility. Scientists are also considering other unwelcome - and far-fetched - outcomes, such as aggressive extra-terrestrials who eat or enslave us, or perhaps they are industrial types who want to improve their own technological infrastructure and so pillage ours.