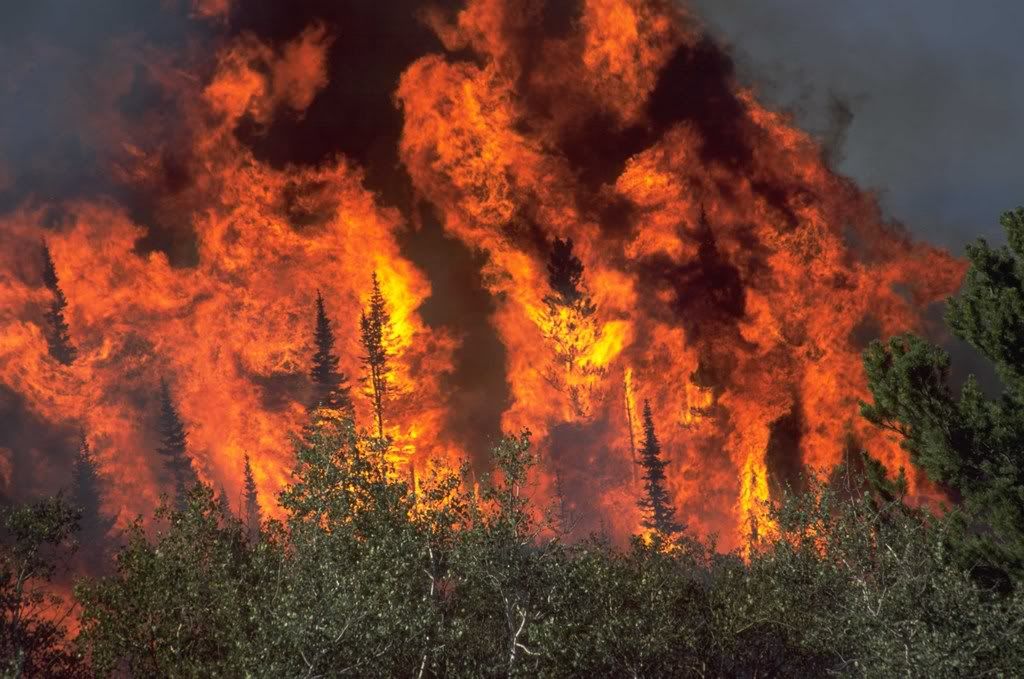 The wildfire engulfing Los Alamos, N.M., mountains and canyons is defying belief in its destruction as it becomes the state's largest ever, a fire chief said.
"We're seeing fire behaviour we've never seen down here, and it's really aggressive," Los Alamos County Fire Chief Douglas Tucker told reporters Thursday as the voracious inferno consumed 93,000 acres, or 145 square miles, on the once-volcanic Jemez Mountains, just west of Los Alamos and the secretive Los Alamos National Laboratory, the nation's top nuclear weapons lab.
The Las Conchas blaze, which devoured more than 23,000 acres in 24 hours, was expected to plunder more than 1,000 additional acres early Friday, making it New Mexico's biggest fire ever, out-consuming 2003's Dry Lakes fire, which burned 94,000 acres, or 150 square miles, near the Gila National Forest in southern New Mexico.
Tucker said earlier hopes of lifting evacuations this weekend had been dashed.
The fire's enormity, on top of other severe wildfires in recent years, is geologically extraordinary - "at least as severe and maybe more so than anything we've seen since the last Ice Age," geologist Grant Meyer of the University of New Mexico in Albuquerque told the Christian Science Monitor.
He attributed a shift in recent decades to "climatic warming," as human industrial activity and land-use changes have pumped increasing amounts of carbon dioxide into the atmosphere.
New Mexico, along with much of Texas and parts of the US Southeast, are suffering from extreme to exceptional drought conditions, data published by the National Oceanic and Atmospheric Administration, US Department of Agriculture and the University of Nebraska indicated.
The Las Conchas fire, believed sparked by a downed power line, was fanned by strong southerly winds Thursday. Weather forecasters predict scattered thunderstorms late Friday.
More than 1,200 fire-fighters were battling the blaze.