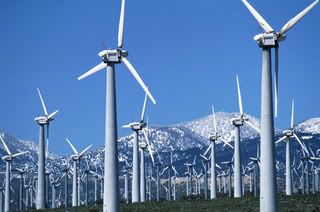 Greener-than-green factory uses wind-power to make solar cells
WalesOnline reported
THE OPENING of a wind turbine at a Cardiff renewables factory was yesterday hailed as the realisation of a "green from green dream".
Robert Hertzberg founder of G24 Innovations (G24i) in Cardiff said: "Our vision was to create a truly green company and we started with the idea of expressing what it meant to be green.
"That meant asking how do you become the new, new thing. Here in Cardiff that is exactly what we are doing.
"It's a grand vision which we share with the Welsh and UK governments and it has all the elements of a truly sustainable businesses environment."
The 120m tall 2.3 megawatt wind turbine was officially launched by Oliver Letwin MP, Minister of State at the Cabinet Office.
It produces enough electricity to power the entire 23 acre site and will save more than 2,500 tonnes of CO2 a year.