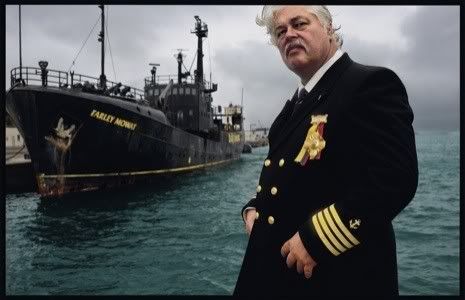 'Eco-Pirate' delves into convictions of notorious ocean warrior Paul Watson
Winnipeg Free Press reported
Paul Watson has spent roughly 40 years developing a reputation as one of the most combative defenders of the ocean, but when the eco-warrior looks back on his controversial career he wishes he had been even more aggressive.
"I've become, I think, more determined as I've gotten older," Watson says in a telephone interview from the Channel Islands, where he observed the recently concluded International Whaling Commission's annual meeting.
"Because of the realization that in some events I could have gotten further, I could have done more if I had been more aggressive."
"I could have pushed things a little further in many of these campaigns and saved more lives."
Still, few have been willing to go as far as Watson to protect ocean life.
In the documentary "Eco-Pirate," writer/director Trish Dolman delves into the notorious crusader's lifelong dedication to the sea, his role in the beginnings of Greenpeace and controversial split with the pacifist group, the impact his relentless campaign has had on his personal life and his involvement with the Sea Shepherd Conservation Society, which he founded in 1977.
The film, voted a top 10 audience favourite at the Hot Docs Canadian International Documentary Film Festival, also follows Watson and his crew as they hunt a Japanese whaling fleet in Antarctica's Southern Ocean, displaying some of the confrontational tactics that have prompted some critics to label him a terrorist.
The 60-year-old Watson, who grew up in New Brunswick, quotes Martin Luther King in describing his approach as "aggressive non-violence," insisting his ocean crew has only destroyed property used to take sea life.